Recently the Marshall Chess Club has been putting together some huge blitz events on Friday nights at the club. This last Friday, our favorite opening -the Czech Benoni- was assayed against the young pretender Alex King by our fearless hero FM Asa Hoffmann with interesting results. Asa should have plunked his knight in on d3, which is the whole idea of pushing the pawn to c4 and vacating the c5 square for the knight, but for some reason in the heat of battle there was a change of plans. For all of its back and forth violence, the game ended in a draw… or did it.
In the final position, Black is one move away from delivering mate, however, both players agreed to a draw in light of the perpetual check after Kxh7. It seems clear, at least at first glance, that the king cannot escape the queen's evil checks. So, despite having an extra rook and the threat of mate, Black has to admit that it's a drawn game.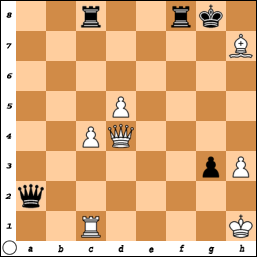 However, both players overlooked that in fact White has a mating attack after 30…Kxh7 31.Qh4+ Kg6 32. Qxg3+ Kf5 33.Re1! Qa1 34.Qg4+ Kf6 35.Qe6+ Kg5 36.Rxa1 Rg8 37.Qg4+ Kf6 38.Qf4+ Kg6 39.Ra6+
Speaking of big money blitz tournaments, coming up this Tuesday is the Bobby Fischer 70th Birthday Blitz Tournament! And the word on the street is that Nakamura will be there! Gata Kamsky also stopped by the club today, and Asa Hoffmann tried to talk him into attending- so it's possible that this will be one of the strongest blitz tournaments ever held at the Marshall. See you all there!
Bobby Fischer 70th Birthday Blitz Tournament!
When
Tue, March 26, 7pm – 10pm
Where
Marshall Chess Club (map)
Description
Mar. 26 Bobby Fischer 70th Birthday Blitz Tournament! (QC)
Trophies Plus Grand Prix Points: 40 (Enhanced)
9-SS, G/5. Marshall CC, 23 W. 10th St., NYC. 212-477-3716. $$G 2025: $600-400-300-200, top U2400/unr, U2200, U2000, U1800: $75 each, Best Senior born in or before 1952: $100-50, Best Junior born in or after 1998: $60 Plus One Year MCC junior membership!-30. EF: $35, members $25. FIDE & USCF Quick-rated, but higher of regular or quick USCF rating used for pairings & prizes. Reg. ends 6:45 pm. Rds.:7-7:30-7:50-8:10-8:40-9-9:20-9:40-10 pm. Three byes available, request at entry. Please bring clocks if possible! www.marshallchessclub.org. This tournament has been made possible through the generosity of Mr. Paul M. Albert Jr.