While rummaging through some old boxes at the Marshall Chess Club today, I found an odd volume by Andy Soltis entitled "Chess To Enjoy: A king's treasury of chess stories and unusual games and problems for budding masters, sideline kibitzers, and rainy-Sunday-afternoon beginners." Apart from having a 1970's retro-chic cover and paragraph long title, this book is full of some of the strangest chess tidbits I've seen since first stumbling upon Chess Notes by Edward Winter.
In a chapter titled "'I Resign' and Other Famous Words," I stumbled across the below composition coupled with a descriptive poem by Ilya Shumov from a collection of similar compositions thematically called "The Opium War," written in 1860.
It's clearly a horrible indignity,
to restrict the trading integrity.
The civilized nations say, 'No More,'
and so, for opium, we have – a war.
But since the enemy cannot scale China's Great Wall
The emperor curses them as dogs from under his parasol,
but as he orders them destroyed with his cups of tea,
he overlooks completely he's being mated,– in three.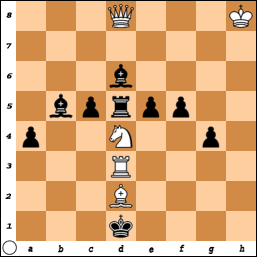 This thematic coupling reminded me of Vladimir Nabokov's rare/impossible to find collection of chess problems he composed together with corresponding poems/hints Poems and Problems. Perhaps he was inspired by Shumov?
That book has been on my Christmas list for a decade but Santa can't seem to find it.